Orcas, also known as Killer whales, have been spotted swimming extremely close to shore near Orange County, California! Whale watchers were startled yet amazed when they spotted a pod of 7-10 Orcas swiming and feeding near their boat off the coast of Dana Point on Tuesday.
 This group of whales reportedly swam from Ranchos Palos Verdes on Sunday down to Dana Point on Tuesday, and are now back near the shores of Ranchos Palos Verdes. Grey Whales are known to swim very close to shore but it is a  rare occurance for Killer Whales.
Killer whale researcher Alisa Schulman-Janiger, who has been tracking this group of whales for some time, has identified that the pod consists of two Orca families. Janiger has said that although it is rare for Orcas to swim so close to shore, it does happen on occasion and can be thought of as a "family vacation"!
Watching the activity of the two families very closely, Janiger has said that the pod actually attempted to attack a Grey whale! Luckily the Grey whale managed to swim to a safe place.  Orcas are known to make a group effort to attack Grey whales but Sea lions are their typical diet and this particular group of Orcas were seen eating as many as 5 Sea lions within 4 hours! Click here and here to watch cool videos of the whales at Dana Point!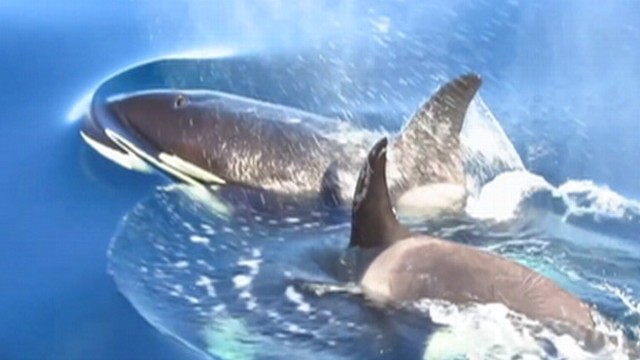 Tweet