On December 13, hunters spotted over 100 Beluga whales trapped among large ice sheets located off Russia's Eastern Chukotka Peninsula in the Bering Sea. Surrounded by 10-15 centimeters (4-6 inches) thick ice, the Belugas are prevented from reaching clear waters and swimming freely.
Food is scarce in the frigid area and authorities are speculating that the whales could perish from hunger and exhaustion if not rescued soon enough. According to observers, the whales are concentrated in two relatively small areas free of ice which gives them just enough air to breathe and stay alive. The whales have now been trapped for at least two weeks!
Upon receiving news of the trapped whales, Russia quickly scrambled to organize a rescue mission involving the Transportation Ministry and an inter-departmental group. The rescue team sent a vessel known as the Ruby rescue tug to break through the ice and set the whales free on Friday. Unfortunately, the rescue tug was unable to get through the ice due to complicated weather and ice conditions. Authorities say the operation may continue if conditions ease.
Belugas trapped among Arctic ice is a frequent phenomenon in the Bering Sea but often goes undetected by people. The last successful rescue of  trapped Belugas occurred in 1986 when an icebreaker vessel set the whales free. Beluga whales were listed as an endangered species by the International Union for Conservation of Nature in 2008.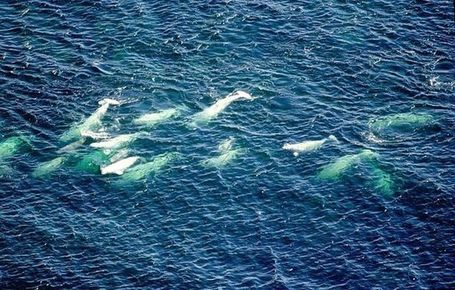 Pictured here and in the top left corner are Belugas in the Bering Sea
Tweet